About Us
What We Offer...
The Pond Lady, a lake and pond management company, offers you a full spectrum of expertise, products and services to enhance your water resources. Our goal is to help you achieve maximum enjoyment from your retention/ detention pond, basin, wetland, water garden, farm/fishing pond or golf course feature based upon your individual needs and requirements. Whatever your need may be, we will offer you the utmost in professionalism and service through all aspects of our company.
We Also Provide...
Perhaps the most important service we provide is consultation. It's certainly the most requested! We consult on all aspects of pond and lake management, from design to maintenance. Along with private pond owners, our clients include corporations, horse farms, golf courses, homeowner & lake associations. For a fee we will provide on-site inspections and consultations throughout Kentucky.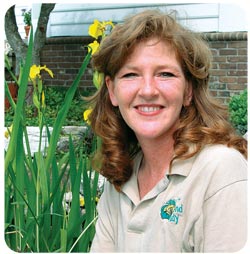 Contact Us...
For more information please contact Lynn Rushing (The Pond Lady) at 859-278-POND (7663), or go to the contact page and submit the "Tell Us About Your Pond" form.


We look forward to working with you soon!
DISTRIBUTOR